The Charles E. Williams II Advanced Leadership Institute will host its annual Oratorical Contest for the 30th Southwestern Black Student Leadership Conference on Saturday, January 19, 2019. The Oratorical Contest is aimed at challenging and stimulating the minds of its participants as well as providing them the opportunity to display their talents of speaking and interpreting their ideas on a specific subject.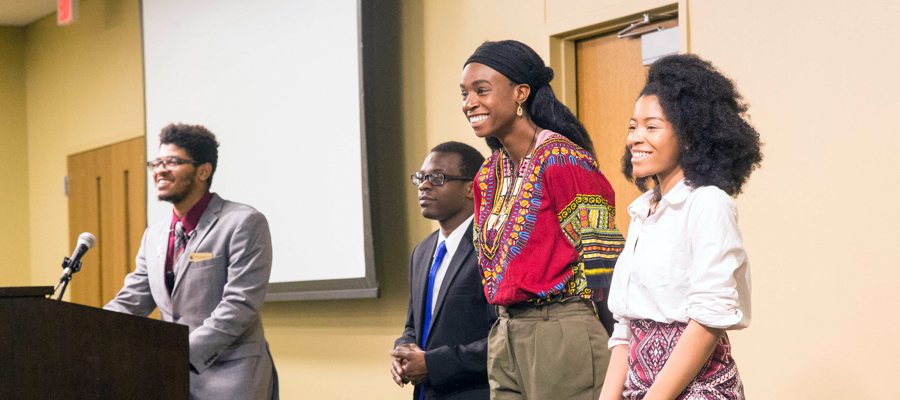 Guns are expected to become a leading cause for the number of American deaths in 2015, surpassing car crashes. Gun violence directly disproportionately affects the African-American population more in comparison to their White and Hispanic counterparts.
With guns assisting in the killing of blacks due to homicide at twice the rate of whites who are using guns to commit suicide, it is becoming increasingly apparent that gun violence varies across racial boundaries. What should the government's role be in balancing the safety of our nation's citizens while preserving our constitutional rights? How do we as African-Americans mobilize to protect our community from threats of high concern such as gun violence?
Homicide is the leading cause of death amongst African American youth ages 15-24. Black youth are 10 times more likely to be victims of homicide than their white peers.  On August 9, 2014 an unarmed 18-year old African American male, Michael Brown, was shot 6 times and killed by a white police officer, Darren Wilson, as Brown and a friend were approaching the sidewalk. After his death the photos of Brown that were used, not only, portrayed a negative image of Brown; but young black males over all. Mainstream media and commercial advertising continue to portray African-Americans in stereotypical roles with anti-black images. How did you believe the media framed the shooting of Michael brown and why? Do you believe this situation stood for the justice and equality our nation prides itself on?
1. For the past half-century, African Americans' political progress has fluctuated. In light of the re-election of our first Black president and the recent Supreme Court ruling on voting rights, there are diverse opinions about the advancement of our community. How do we as African Americans mobilize to keep Black community issues relevant?
2. African American history has become a frequently overlooked topic in the educational system. For example, Texas has recently proposed removing slavery from textbooks. In addition, historical concepts are more likely to be taught from a Eurocentric point of view in which the struggles of our ancestors are undermined, and African American leaders of the past are given insufficient recognition. How does this affect how both our race and other races values Black history?
Contest Rules and Guidelines
Interested persons are required to send notification to Jalecia Wilborn (sbslc.ali@gmail.com) of their desire to participate in the contest by January 8, 2018. There will be a prescreening of participants on the evening of Friday, January 19, 2018, prior to the conference entertainment. Participants should bring to the prescreening the following:
A maximum of 10 note cards
Five copies of their speech outline
A list of references used in the speech
Participants must submit a packet in a manila folder upon arrival containing: their note cards, five copies of their speech, and a list of references. The speech should be 6 to 8 minutes. Participants will be judged on their creativity, content, research, and overall presentation. Plagiarism is grounds for expulsion from the contest. Please cite your sources, both in your outline and orally.
The top THREE participants will deliver their speeches during the Oratorical Contest. Upon arrival each participant will be given a W-9 form, which must be turned back in before the closing banquet Saturday night. This is required in order for the winner to receive their prize. The winner will receive a $200.00 prize, a first place plaque, and the honor of introducing the keynote speaker at the closing banquet. The first runner up will receive a $100.00 prize.
Please contact Jalecia Wilborn, Director of ALI, at 979-845-4565 or
sbslc.ali@gmail.com
if you have any questions.