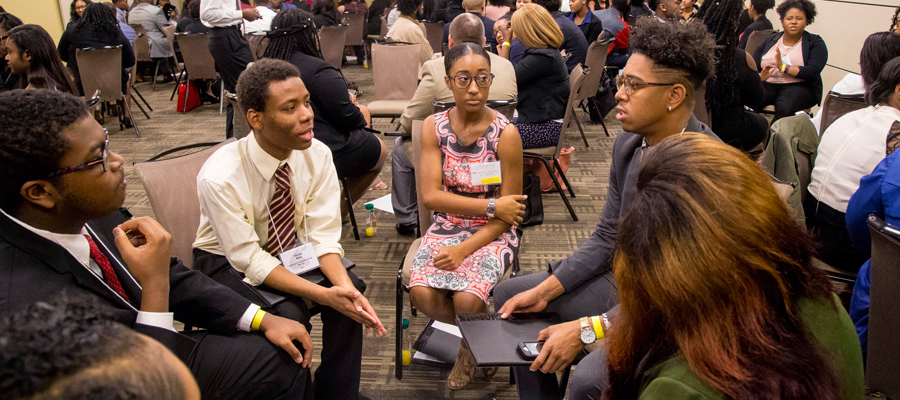 For the past 31 years, SBSLC has created a unique opportunity for African American college students from across the nation to assemble and collaboratively develop leadership skills for the future. Workshop presenters play an integral role in helping SBSLC continue its legacy of educating and motivating leaders who will continuously transcend limits on their campuses and in their communities. The SBSLC Executive Staff has a vision of using the conference workshops and town halls as a platform for engaging dialogues and dynamic activities that will enhance participants' perspectives of student leadership. We welcome you to submit a proposal for a workshop presentation for the 2019 annual conference.
This year's conference theme is SBSLC 31: A Purpose Pursuit. It is our hope that through dynamic and innovative workshops, participants are challenged to desire and achieve excellence in every area of their individual lives. The 2019 workshop tracks include:
Project Purpose: These workshops explore various topics that place an emphasis on striving towards your purpose. Such topics may expand on the two-fold process of remaining active and feeding your passion towards your individual purpose.
Personal Leadership: These workshops explore the different approaches towards transcending limitations in setting personal goals, improving leadership skills, reflecting on current events, and being actively engaged on campus.
Professional Development: These workshops explore the various tools students need to overcome limitations in today's increasingly competitive business and educational environments. Such topics may cover (but are not limited to) financial planning, graduate school preparation, social and business etiquette, job prep/resume building, and career decisions. 
Networking: These workshops aim to equip students to excel through discussions on appropriate self-representation, high-quality relationships, and a good understanding of current events. Moreover, this track challenges student's current views on networking and helps maximize their current resources.
Achieving Black Excellence:  These workshops explore the success of student leaders and the achievements throughout the Black community. These sessions will also look at relationships and current events within the Black community and how as African Americans we can continue to strive and expose our excellence.
Advisors Track: This track is specifically designed for the engagement and development of our faculty and staff conference participants. Presentations in this track cover issues and strategies related to advising, counseling, coaching, motivating, challenging, and supporting underrepresented students as a professional in student affairs and higher education.
Interested in facilitating a workshop?
Click
here
to submit a workshop proposal for the 2019 Southwestern Black Student Leadership Conference.
You will not be able to save information and return to the proposal form, so it is important to have all workshop and presenter information prepared to submit at once. You will need the following information to complete your proposal:
Workshop Title
Workshop Track
Workshop Style (i. e. Lecture, Discussion, Activity)
Workshop Description (maximum 100 words- This will serve as the abstract shared in the conference booklet)
Workshop's Relation to the Conference Theme (How is your workshop relevant to this year's theme)
Workshop Learning Outcomes (what the participants will be able to take away from your workshop)
Any resources being used during the workshop (i. e. PowerPoint presentation, videos, transcript of lecture)
Lead Presenter's name, email address, phone number, biography(maximum 100 words) and list of any previous SBSLC presentations
Up to Two(2) Additional Presenters'  names, email addresses, and biographies(maximum 100 words)
Workshop proposal deadline: Sunday, November 11, 2018 
Notification of workshop acceptance: Sunday, December 2, 2018
Deadline for presenters to accept invitation to present: Sunday, December 9, 2018